Recently, we found yet another competitor who finds it's easier to steal than to work. In this case, they're using the EXACT ad copy we had posted on our websites over 2 years ago… Really? Really.
What is it they say? "Imitation is the best form of flattery" – Based on the amount of Ad copy and product names of ours stolen over the years, I guess we should be pretty flattered then!
During our 30 years in business we've seen lots of companies come and go. Most are well intentioned, but for various reasons, they usually don't last. Whether it be poor business practices, financial weakness, lack of integrity, just plain laziness or a combination of factors, these companies eventually fail.
Inevitably, some of the survivors resort to "copy cat" techniques because they lack ingenuity themselves. Why come up with better products, services, or even ad copy, when you can just steal them?
At ASAP, we pride ourselves in having a bias toward innovation vs simple imitation. The industry, as well as customers and competitors, see us as innovators; that's a role we are good at and enjoy.
A good example of that can be seen in our Adverflag® roof stand. While our very first generation roof stand was acceptable, it simply is not as safe, reliable and efficient as the one we use today. In fact, I'm sure you've seen these products on the side of the highway during construction season! Our innovation was in adapting an existing product for our use, but all the while realizing that this could be a short term solution that would need improvement. And that is what we did. Here I am testing out the first generation roof stand: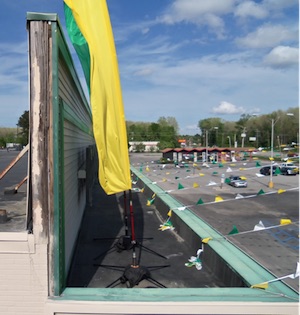 So why change? Today's version has been revised a few times – in conjunction with a longstanding supplier – in order to improve its performance. Today's roof stand improved stability and increased wind resistance by over 40%, while reducing its shipping weight by 33%. Oh yeah, reduced roof damage from 3 instances to zero. Oh yeah #2, 20% less cost. Here's a current photo of the stands in action: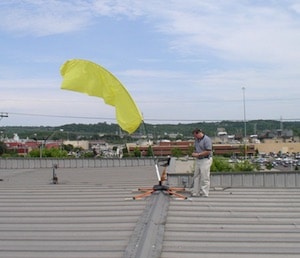 Our Adverflag® roof stand is just an example of leadership, innovation, and a desire to continuously improve vs. the mindset of a follower, where imitation and a desire to rip off someone's idea without improvement is the best you'll ever get.
At ASAP we're proud to be the one that sets the pace, we are continuously looking for ways to improve our products and services as well as our customer's experience. The possibility of our good ideas being stolen is not going to stop us from continuing to innovate and grow.